Countries With The Largest Aging Population In The World
Known for its increasing number of elderly, Japan has the most aged citizens in its borders, with Italy close behind.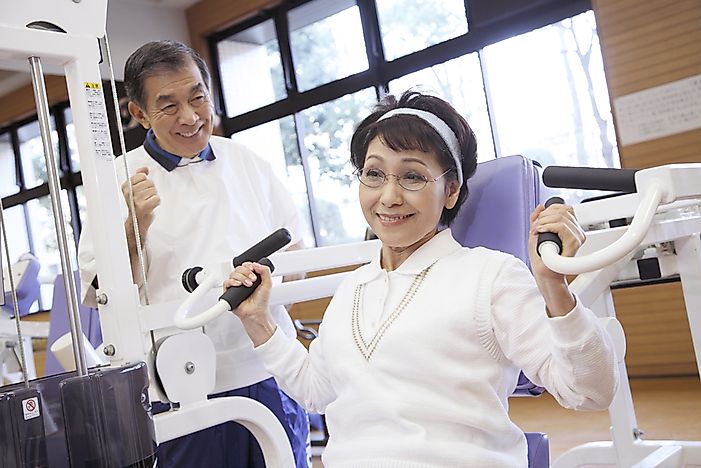 The world is aging rather rapidly. However, there are a few countries, such as Japan and Italy, that stand out from among the rest, due to the immense proportions of their citizens over 65 years of age. According to the World Health Organization, nearly two billion people across the world are expected to be over 60 years old by 2050, a figure that's more than triple what it was in 2000. Because of such increases in their aging populations, some of the world's largest economies have started facing subsequent increases in their health-care costs, higher pension costs, and a decreasing proportion of their respective citizenries active in the workforce. A major contributing factor to this trend has been diminishing fertility rates in these countries in recent decades, further compounded by longer lifespans. In order to adapt to their increasingly aging populations, many countries have raised the retirement age, reduced pension benefits, and have started spending more on elderly care. With lesser numbers of individuals entering the population and people living much longer lives, people above the age of 65 now make up an increasing share of the world's total population. We take at look at those countries which are particularly well-known for their rapidly rising numbers of aging citizens.

Countries With the Largest Aging Populations
Japan is home to the oldest citizenry in the world, with 26.3% of its population being 65 years of age or older. In the year 2014, the percentage was about 25.8%, which shows that the number is steadily rising each year. It is predicted that nearly a third of the Japanese people (32.2%) will be senior citizens by 2030. At the present moment, more than one in four people in the country are over the age of 65, whereas the country's population aged between 15 and 64 fell by 4% between 2000 and 2010.
Next on this list is Italy, with 22.4% of its population being 65 years of age or older. The country's elderly population is known to have remained at around 20% in the period between 2005 and 2010, but has steadily been on the rise in the few years since. Most interestingly, and in line with these figures, the younger population of people aged between 0 and 14 has not exhibited growth since 1999, and remained at a mere 14% until recently. Largely due to its aging populace, Italy is known to have the highest relative public spending on pensions of any country in the EU. Pensions take over 16% of Italy's GDP, as compared to 11% for the rest of the European Union.
Greece is next on this list, as 21.4% of its population is over 65 years of age. The country is known to have the world's weakest pension system, which has been crippled by low ages of retirement, intense sovereign debt, and a high ratio of pensioners to workers. Pension payments are a major burden on the economy, considering that nearly a quarter of Greece's 11 million people are retired, and the country's economic situation in recent years has been erratic at best.
Other Countries with Rising Numbers of Older Citizens
There are quite a few others countries that have high percentages of their citizens aged 65 years and over as well. Some of these are Germany, Portugal, Finland, Bulgaria, Sweden, Latvia and Malta. Their statistics indicate that 21.2%, 20.8%, 20.5%, 20.0%, 19.9%, 19.4%, and 19.2% of their respective populations are 65 years of age or older.
Countries With The Elderly Population In The World
View information as a:
List
Chart
| Rank | Country | % of population over 65 years old |
| --- | --- | --- |
| 1 | Japan | 26.3 % |
| 2 | Italy | 22.4 % |
| 3 | Greece | 21.4 % |
| 4 | Germany | 21.2 % |
| 5 | Portugal | 20.8 % |
| 6 | Finland | 20.5 % |
| 7 | Bulgaria | 20.0 % |
| 8 | Sweden | 19.9 % |
| 9 | Latvia | 19.4 % |
| 10 | Malta | 19.2 % |
| 11 | France | 19.1 % |
| 12 | Denmark | 19.0 % |
| 13 | Croatia | 18.9 % |
| 14 | Estonia | 18.8 % |
| 15 | Lithuania | 18.8 % |
| 16 | Spain | 18.8 % |
| 17 | Austria | 18.8 % |
| 18 | Belgium | 18.2 % |
| 19 | Netherlands | 18.2 % |
| 20 | Czech Republic | 18.1 % |
| 21 | Slovenia | 18.0 % |
| 22 | Switzerland | 18.0 % |
| 23 | Hungary | 17.8 % |
| 24 | United Kingdom | 17.8 % |
| 25 | Romania | 17.3 % |